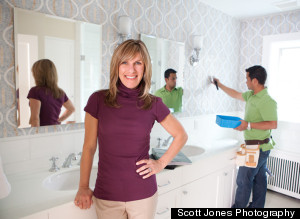 By Lori Weiss
Debra Cohen had a career most people couldn't even begin to imagine. As the Vice President of a Spanish language aviation magazine, she traveled the world — flying on corporate jets and staying in only the most luxurious hotels. It wasn't uncommon for her to hop on a helicopter or glider, in the middle of the day, and land on a remote South American island for lunch. She spent so much time abroad, that no was really surprised when she got the biggest news of her life, alone in a Paris hotel.
"I was late," Debra recalled, "very late. I'd taken home pregnancy tests before I left New York, but nothing showed up. So I thought I'd try one more time. But I bought the kit in France, so the results were in French and I couldn't read them. I had to call down to the desk to find out that I was pregnant!"
And at that moment, on the phone with a desk clerk, Debra knew her entire life was about to change. She continued to travel until she couldn't anymore, but once her daughter Emily was born, she traded in her frequent flyer status to become a stay-at-home mom.
"I tried working from home several days a week. I tried having a nanny. I loved my job and it was the hardest decision of my life. But I loved my daughter more."
So there she was, a new mom, grounded for the first time in nine years. Her husband was working overtime, so they could make ends meet, and for the first time since she was a teenager Debra was living in the suburbs.
"My husband is not a city person," Debra said, "and we really didn't want to raise a baby in an apartment. So we bought a 75-year-old black and white Tudor on Long Island. I didn't know a single person. I was alone, with a new baby, far away from everything familiar."
So Debra did what she knew best. When the baby slept, she reverted back to her own childhood — where she had hung curtains on a doll house her father built in their backyard and painted her bedroom in horizontal stripes. She began to redecorate.
"My husband says that our entryway would be four feet wider if it weren't for all the layers of paint I'd experimented with. I pulled off wallpaper and painted pretty much every room in the house."
And if that wasn't enough to keep her occupied, she discovered an unexpected welcoming committee — that was nothing like anything she'd ever seen in her high-rise apartment.
"First there was the bird that flew in through our chimney," Debra remembered. "And then one night, we heard something scurrying around upstairs. My husband, Charles, opened the attic door and there were two beady eyes staring back at him. He chased the bird out, but we weren't going to mess with the squirrel. So we started calling people. They'd catch it and it would come back again. It even chewed through a metal fan to get back in. One guy came over and said he couldn't find it, but he did show us a carpenter ant he discovered in our basement. To this day, I think he planted it. I never saw one again.
"I was a woman home alone, with strange people coming to my house, telling me things I didn't understand and it was costing us money we didn't have. It was all very eye-opening."
Eye-opening enough that Debra quickly realized she couldn't be the only one who felt this way. Strange as it may sound, those unwanted visitors who had found their way into her home were about to open one more entryway — the one that would lead to Debra's next career.
"I decided I was going to begin a contractor referral service," Debra said. "I started networking and asking the people at the hardware store and the paint store, even women I'd meet while I was walking the baby, who the best service people in the area were. And then I talked with the contractors, to see what kinds of commissions they thought would be fair."
Determined To Succeed

When Debra first started her business she never said "no" to anyone looking for a contractor. If she didn't have anyone, she would search until she found someone good. Here, she is pictured with some of the painters in her network.

Getting Off The Ground

Debra gathered recommendations from neighbors about the best service people in the area. Then, she built a team of contractors who were willing to pay her a fee for business that she referred to them.

Welcome To The Suburbs

After dealing with a slew of contractors who came to remove the various unwelcome critters in Debra's Long Island home, she decided to start a contractor referral business.

Changing The Terms

Working in corporate America, Debra couldn't take care of her daughters the way she wanted to, so she changed the terms. Here she is pictured with daughters Emily and Sophie.

An Impressive Career

Debra traveled the world as the Vice President of a Spanish language aviation magazine. Here, she meets Eduardo Frei, President of Chile, while on business.

A Glamorous Life

While working at the aviation magazine, Debbie was given unbelievable opportunities, like the chance to jet to South America for lunch. Here, she is ready for take off in a helicopter during one of her business trips to Latin America.

A Mother's Love

After giving birth to her daughter, Debra tried having a nanny and working from home on some days. Eventually, she gave up her high profile position to become a stay-at-home mom.

Where It All Began

Here is the attic where Debra found the pregnant squirrel that served as the original inspiration for Home Remedies®.

A Risky Investment

Taking a loan from her husband's retirement savings plan, Debra used $5000 to get Home Remedies® off the ground. Here, she promotes the Homeowner Referral Network (HRN®) at a business opportunity trade show in NYC.

A Fateful Phone Call

A phone call from a woman in Boston who wanted to start her own business like Home Remedies® sparked Debra's lucrative "business in a box" idea. Here, she works in her home office, which doubled as a playroom.

Local Celebrity

Debra was featured in her local newspaper, serving as an inspiration to other moms who want to maintain a career and also be at home with their kids.

HRN Goes Global

More than 300 people around the world have started their own home referral networks using Debra's "business in a box". Here is Sarah Gilbert of Ruth's Home Works, an HRN® based in Wichita, KS.

On The Job

Debra is pictured here with a landscaper from her HRN® network.

An Opportunity For Women

Eighty percent of the Home Referral Network® is made up of women. Pictured here is Kim Love-Hatling, of Neighborly Home Services, an HRN based in St. Cloud, Minnesota on the job with some of the contractors from her network.

Networking Around Town

Networking opportunities are everywhere! Here, Debra networks with her friends at the local paint store.

Traveling Together

Today, instead of being away from her family for months, Debra is able to travel with them. Here is the Cohen family on a summer vacation in Italy.

Destined For Home Improvement

Even at 13, Debbie enjoyed beautifying her home. Pictured here is a graphic she created on her bedroom wall as a teenager.

Investment In Family

Because Debbie was able to turn $5,000 into a $3.5 million business, her husband likes to joke that she is the best investment that he ever made. She says that it was an investment in her family.

Home Remedies For All

Men use Home Remedies® too! Pictured here is Joe Lewis of Wise Home Improvements, an HRN® based in Santa Fe, New Mexico on the job with some of the contractors from his network.
n she had a group of five contractors who were ready and willing to paint, refinish, repair and of course, get rid of unwanted pests. And each of them was more than happy to pay Debra a fee for every project she brought them. Now all she needed were customers — and one other minor thing — the money to get the business off the ground.
"We decided to take a loan from my husband's retirement savings plan. We really didn't have much and we couldn't afford to lose anything. But when my husband said to me, 'if you're that worried, then don't do it,' that's when I knew I had to. I couldn't live with the 'what ifs?'"
So with $5,000, Debra began to put the pieces in place. She hired a lawyer, bought mailing lists, invested in some used office equipment and printed up 200 direct mail pieces promoting her new company, which she proudly named Home Remedies of NY®. And then she sent them to new homebuyers in the area.
"I'd call the people who owned the most expensive homes first," Debra laughed. "But I didn't do it as a hard-driving sales pitch. I'd call as a new neighbor, tell them about what I was doing and ask if they needed any help. I made it easy for them. And most of the time, they'd say, 'I was thinking of doing this or that, do you know anyone?' I never said no. If I didn't know the right contractor, I found them. And I paid off that loan in six months."
But it was a call that came in from outside the neighborhood that really set Debra in motion. Someone in Boston had heard about Home Remedies® and was interested in starting something similar in her part of the country.
"At first I thought about creating franchises," Debra said, "but I knew that would take too much time away from my daughter, and by that point I was pregnant with my second child, Sophie, so I decided to build a business in a box. I created a manual and included every detail I could think of — job order forms, my filing system, how to organize your calendar by color and date. And then I put an ad in The New York Times to see how much interest there was."
Almost immediately, Debra got more than 20 calls and she began a pilot program. She sold her "business in a box" to three people who each lived on Long Island — far enough away that it wouldn't interfere with her own clientele — but close enough that they could refer work to each other. It worked so well, that she decided to expand even further. And today, with Debra's help, more than 300 people around the world have begun homeowner referral networks.
"Eighty percent of our referral network is made up of women. Some are stay-at-home moms, others are grandmothers and some just wanted to find more balance in their lives. I know how important that was to me personally. I couldn't have continued working in corporate America, and taken my daughters to school or been home with them when they were sick. So I changed the terms."
And changing those terms is what allowed Debra to take that $5,000 investment and turn it into a $3.5 million business.
"My husband likes to say I'm the best investment he ever made," Debra said with a smile. "But really this was an investment in my family.
"My number one priority was to be a good mom," she continued, "and I think being self-fulfilled is an important part of that. I want my girls to know, that with the right balance, you can be both."
To learn more about Debra's home owner referral network or to find a contractor in your area, you can visit http://www.hrnbiz.com.